INTRODUCING:

A TEMPERATURE SCREENING KIOSK
PROTECT YOUR ENVIRONMENT WITH ACCURATE TESTING IN REAL TIME
a HIPAA-compliant automated and integrated temperature screening platform that combines health technology and screening practices to keep all ages safe when returning to work, school, or places of worship.
As a healthcare provider, we protect your health data the same way your personal doctor would. Our advanced technological solutions come from our 30 years' experience in healthcare logistics, making us uniquely prepared to help secure your environment with quick, accurate results.
DOCS Health Works is a healthcare company that prescreens health and COVID-19 exposure history through innovative apps, with an integrated temperature screening kiosk that identifies each person, takes their temperature accurately, and confidentially logs their prescreened health information. This combination is much more cost-effective and accurate than utilizing personnel, and it provides 24/7 coverage. When requested, we also intervene with COVID-19 testing or other healthcare services, and we provide protocols for proper operation of these facilities.
Using the wrist area through sensory thermography, this contactless device can capture and detect elevated body temperatures in 0.2 seconds with an accuracy within 0.1 degrees. Each custom unit has wireless connectivity, along with voice command functionality, and uses facial recognition to ensure accuracy and verification of each person within three feet of the unit.
03

WHAT IF I'M WEARING A MASK?
CapScann's facial recognition capabilities are over 99% accurate without a mask, 90% accurate with a mask, and will tell you to put your mask on if you are not wearing one.
04

CAN IT HELP SECURE OUR ENVIRONMENT?
CapScann can easily interface with RFID systems for school or workplace security purposes and integrates seamlessly with most employee or student ID point-of-entry solutions. CapScann is ADA compliant, is hearing and visually enabled, and is part of a multi-layered platform that includes an interactive health app, care coordination services, and consultation services such as conducting an environmental analysis, establishing protocols, and implementing COVID-19 guidelines.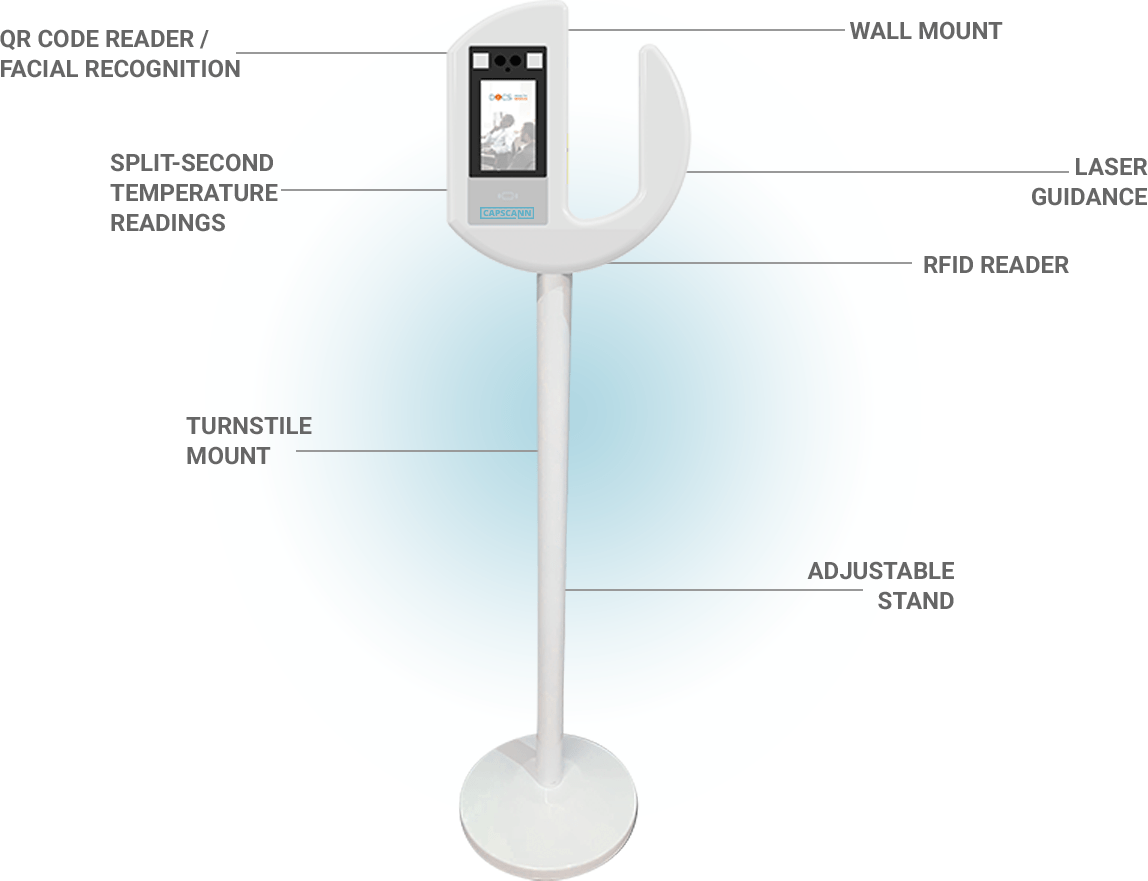 Takes temperature within 0.2 seconds
Temperature accuracy 0.1
Authorization and authentication with RFID, Facial Recognition, or QR code
Can control door, gate, turnstile access with authorization and normal temperature
Intercom capability to security with visual as well as two-way audio communication
Local security is fully accessible through video and voice communication via mobile devices
Cameras from each device can be fed into security camera system's, giving face images and continuous monitoring
Can be either WiFi or ethernet connected to network
The HealthWorks app – for employees/staff
Captures daily health information from employees, customers, students, parishioners, and for all general entry
Sends an authorization QR code to their mobile device that allows access for 24 hours
Collects HIPAA consent and release
Notifies Health Services if any responses are out of safe range in real time so they can respond immediately
Maintains data in HIPAA and HITRUST environments
Can be a plug-in on various apps
Reports high temperature alerts in real time
Logs access by location and authorization code to assist in contact tracing
Logs data for 60 days and auto deletes after 60 days
The CapScann app – for customers/visitors
Captures daily health information from customers, visitors, parishioners, or students
Sends an QR authorization code to their mobile device that allows regional access for 24 hours
Can function as a plug-in on the HealthWorks business-facing app
Reports high temperature alerts from the kiosk to the point of contact in real time
Logs access by location and authorization code to assist in contact tracing
Maintains data in HIPAA and HITRUST environments, and collects HIPAA consent and release
Logs data for 60 days, then auto deletes after 60 days
Notifies the point of contact if any responses are out of safe range in real time so they can respond immediately, and will not issue a QR code
Reporting tools for employers to support required contact tracing
Immediate notification of personnel with responses that put them at risk for COVID-19
Notifications allow businesses to keep "at risk" or "unhealthy" employees from coming to work
Set RFID, QR code, or facial recognition entry control by access point
Privacy Mode turns off facial recognition capabilities
Put CapScann to work for you:
HEALTHWORKS INTEGRATED BILINGUAL APP
The HealthWorks app syncs with our custom health-screening kiosks to conduct efficient COVID-19 assessments. These electronic screenings capture real-time data that's kept in HIPAA and HITRUST-compliant environments, safeguarding against possible exposure and potentially high-risk individuals.
iHeart Media partners with Dr. Larry Caplin of DOCS Health for "Navigating The Next Normal" Podcast Series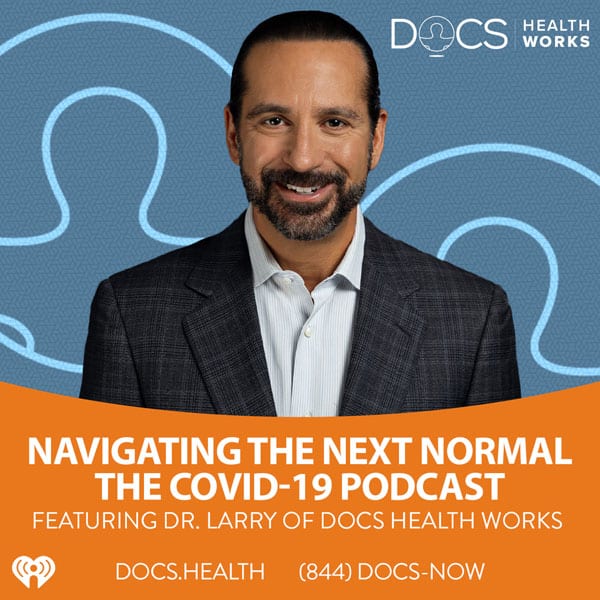 Get Back to Life Safely with DOCS Health Works.
Contact our trusted, experienced staff today.
(267) 362-5202 (DOCS-NOW)